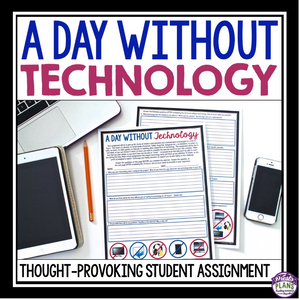 A DAY WITHOUT TECHNOLOGY ASSIGNMENT (WRITING REFLECTION)
$199

$1.99
Digital Download
---
---
Have your students explore and examine what role technology plays in their lives with this thought-provoking assignment. Students spend 24 hours without any entertainment or communicative technology. This means no phones, no social media (Facebook, Twitter, Snapchat, Instagram etc.), no television, no email, no radio, no music, no video games, no Internet, or anything other related form of technology. Students have one week to finish the assignment and can choose which 24 hours to complete the exercise. The assignment includes questions to complete before and after the 24 hours. 
This assignment allows for lots of class discussion on the impact that technology plays on our lives and whether its effects are positive or negative. This will be an assignment your students will never forget! 

Depending on your class, you might consider telling students that if they are caught "cheating" by using technology that they lose a certain percentage on their grade. You could also have a parent and a classmate "sign off" to say they did not see them using technology.
© Presto Plans
---